Conservatory prices and designs
At Alwoodley we offer a variety of conservatory designs to meet the demand for today's diverse aesthetic requirements. Our competitive conservatory prices are achieved without compromising the quality by efficient manufacture of the units, made to order at our facility in Leeds. We control the complete customer experience from design to manufacture and installation.
All conservatory prices quoted are based on a standard 3 x 3 installation and include VAT.
Edwardian Conservatories

Edwardian (or Georgian) conservatories feature an apexed roof and are square or rectangular in shape.
• Size ranges from 2m to 6m in both width and projection
• Pitch ranges from 15° to 35°
View Edwardian conservatories

Victorian Conservatories

Victorian conservatories traditionally comprise of a five or seven sided structure with an apexed roof and an ornate roof ridge.
• Size ranges from 2m to 6m in both width and projection
• Pitch ranges from 15° to 35°
View Victorian conservatories

P Shaped Conservatories

P-shaped conservatories create a large multi-functional extension to the home and can be installed in any of the traditional Victorian, Edwardian or Gable-end styles.
View P Shaped conservatories

Bespoke Conservatories

Bespoke conservatories are tailor made to the design of each individual project. The flexible nature of the design allows conservatory construction within difficult or unique installation circumstances.
View Bespoke conservatories

Gable End Conservatories

Gable end conservatories feature the classic gable end, triangular projection of the roof. Elegant in design and aesthetically suited to most properties.
• Size ranges from 2m to 6m in both width and projection
• Pitch ranges from 15° to 45°
View Gable End conservatories

Lean-to Conservatories

Lean-To conservatories supply the maximum living space for any given area. The roof itself can be set at range of pitches, and is especially appropriate where height restrictions may apply to the installation.
• Size ranges from 2m to 6m in both width and projection
• Pitch ranges from 2.5° to 45°
View Lean-to conservatories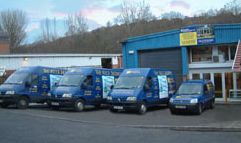 Terms of business
• No salesmen. Just home improvement specialists
• Installation by a fully qualified, experienced team
• No deposit
• Payment due on satisfactory completion of the installation
• All minimum prices quoted include VAT
Privacy policy : Any information sent to us will not be passed on to any third party or retained on a database.
Products